Reach trucks for Singapore are available too
Our product range don't just stop at forklifts, we specialise in reach truck too.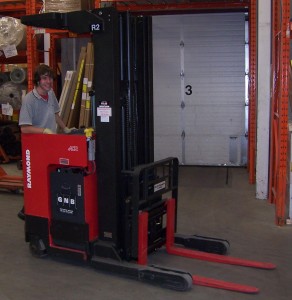 Reach trucks are a productivity booster
When conventional forklifts are too big and bulky, reach trucks shine because they are smaller, space saving and the best part about reach trucks is that they do not require any forklift license to operate. So basically anyone can use it.
We do recommend the operator to get familiar with the reach truck first before lifting real heavy loads.
Furthermore, if you want to maximise your floor area, you'll need racking to be built upwards.  You can either unpack the goods and stack them onto the racks individually, OR you can use a reach truck and put the whole pallet on the rack which saves you lots of time and manpower.
What are reach trucks?
Think of reach trucks as "mini-forklifts" they can extend their forks out and lift loads to heights just like a forklift. However, reach trucks are not built to handle terrains, steep slopes, humps, etc.. You get the picture. Because reach trucks have small wheels and are design for mainly flat surfaces.
With reach trucks, you also do not have to worry about whether the pallet is a open or close base, this is a clear winner over conventional electric stackers which can only use open base pallets.
For a comparison with forklifts, check out this wikipedia entry
http://en.wikipedia.org/wiki/Forklift_truck
Common Reach Truck Models In Singapore
Some common brands of Reach Trucks in Singapore are Toyota, Nichiyu and Nissan.  The most commonly seen model is the Toyota 7FBR15 shown below.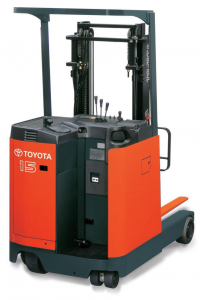 Regardless of a Nissan, Nichiyu or Toyota, a good reach truck is the one that helps you to move and lift your cargo safely!
Why should you get a reach truck over a forklift
The biggest reason is that a reach truck do not require a large aisle width as compared to a forklift. Also, a reach truck is compact in size and usually more agile when comparing to a fork lift.
If you operate in a flatted environment like most Singapore companies, you might need to take note of the total floor loading. Forklifts are generally heavier than reach trucks and you do not want to exceed this limit. A reach truck on the other hand is light and can easily navigate most floor spaces and even cargo lifts easily.
Do you have reconditioned or used reach trucks?
Yes we do. Our reach trucks, regardless of new, used or rental will come with after sales service support.
A used reach truck is usually  reconditioned with new batteries and wheels. We will run through a battery of tests to ensure that the equipment is ready to meet your expectations.
Upon request, we can give it a new coat of pain and stick on your company name as well.
Need Recommendations Or Speak To An Expert?
No problem, we know that buying a new equipment like a reach truck can be a little complex and daunting, but our highly trained professionals is ready to help you quickly and easily.
Just drop us a line in our Contact page we'll get back to you as soon as possible!
Prefer to chat over the phone instead? Sure! We are at +65 3151 4828 (yes our number starts with THREE)